swop 2021 Shanghai World of Packaging Returns with Multiple Special Highlights Uncovered!
swop 2021 Shanghai World of Packaging Returns with Multiple Special Highlights Uncovered!
swop 2021 "Shanghai World of Packaging" will kick off at the Shanghai New International Expo Center Hall N1-N5 from November 23rd – 25th. The organizers Messe Düsseldorf (Shanghai) Co., Ltd. and Adsale Exhibition Services Ltd. jointly held the swop 2021 "Shanghai World of Packaging" online press conference successfully in Germany, Shanghai, and Hong Kong at 3pm Beijing time, September 15th. It was the first time the organizers communicated and interacted with more than 50 domestic and foreign media and association partners online. 

During the conference, Mr. Thomas Dohse, Project Director of Messe Düsseldorf Gmbh, Ms. Rita Chu, Vice Chairman of Adsale Exhibition Services Ltd., Ms. Celine To, General Manager (Sales and Marketing) of Adsale Exhibition Services Ltd., Mr. Marius Berlemann, General Manager of Messe Düsseldorf (Shanghai) Co., Ltd. Ms. Evian Gu, Division Director, Ms. Wenxian Song, Secretary-General of Shanghai Packaging Technology Association, and Mr. Leo Wu, founder of "PKG Family", shared the latest updates on the exhibition as well as the current and future development and new opportunities in the packaging industry in the post-pandemic era.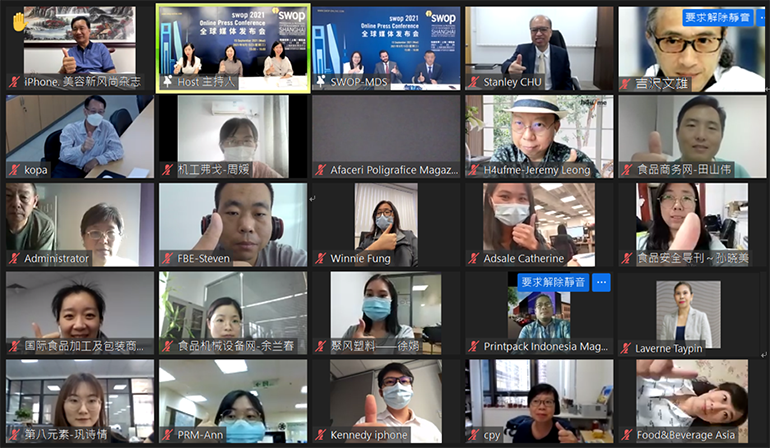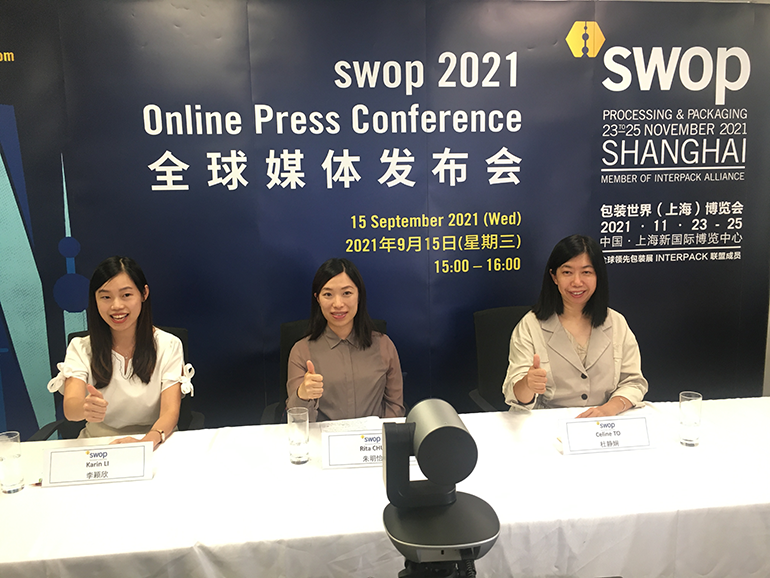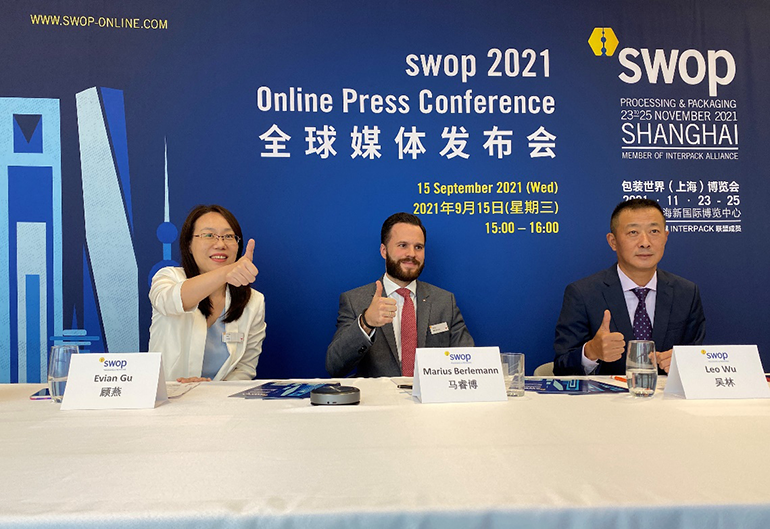 Nearly 750 exhibitors, creating a one-stop business, technology exchange and procurement platform for the entire processing and packaging industry chain

It is the first-time swop returns after the pandemic. The exhibition area is over 62,000 square meters, attended by nearly 750 Chinese and international exhibitors. The organizers will hold 11 new technology summits and on-site awards ceremonies, while launching large-scale international forums, special theme zones and other various activities concurrently with the exhibition. The unprecedented scale of the trade show is expected to attract more than 30,000 visitors in the industry from China and abroad and promote packaging upstream and downstream companies to explore greater business opportunities in the new environment of the post-pandemic era, and work with people from all walks of life in the industry to create once again a bright future. According to the guest speakers, China's national strategy, the dual goal of the "carbon peak and carbon neutrality" policy, brings the packaging industry green transformation development and opportunities. As a member of the global leading packaging exhibition interpack alliance and a platform that runs through the entire industry chain, swop has been focusing on industry development trends and helping the industry move forward.
 
Expo highlights upgraded, with high-quality, innovative, forward-looking and breakthrough content

swop 2021 has seven new highlights. Ms. Celine To, General Manager (Sales and Marketing) of Adsale Exhibition Services Co., Ltd., said at the conference: "swop brings high-quality, innovative, forward-looking and breakthrough content to the industry, which will help the packaging professionals to stand out in the future."
【FMCG Infinity Zone】
 -
Collaborated with "PKG Family" for the fourth time, the trade show brings together 300+ packaging material/packaging products exhibitors on the same stage, doubling the scale.

At the same time, in order to cope with the increasingly popular "asset-light operation model" in recent years, the upgraded "FMCG Infinity Zone" extends the content to OEM/ODM, staying abreast of the current trend and improves the procurement supply chain of FMCG brand owners. Well-known exhibitors include ExxonMobil, Leekee Packaging, Jingli Can, Yuto, Zidan, Xianjunlong, Shangji, Rizone, Haoneng, Advance, Billerudkorsnas, Push Mold, Acmepack, Forop, Ningbo Color Masterbatch, Foshan Wanying Cosmetics, Guangzhou Keying Cosmetics, Zhongshan Fulin Cosmetics, Zhongshan SinnoCosmetics, etc. In the concurrent events and forums, experts are invited to share new industry trends and make forecasts about the industry future.
【Green Power】
-
swop 2021 new highlight. As the dual goal of "emission peak and carbon neutrality" listed as a national strategy, effectively mastering relevant challenges and opportunities will help brands and packaging companies gain a foothold in the Chinese and foreign markets; more than 150 green packaging companies will make an appearance, highlighting diverse new chemicals, recyclable, degradable packaging materials, paper-plastic packaging, new material production equipment, paper container production equipment, etc. Well-known exhibitors include Beauty Star, Guolong, Hengxin, HGHY, Reberet, HSM, Esun, Weifang HuaWei New Materials, Homelink, Mr Bamboo, etc.
【Guochao Packaging Design Week】
-
Guochao has been trending in packaging design this year. swop rides on of the trend and creates a particular area for the Guochao Packaging Design Week. With a fresh look. Chinese elements are integrated into packaging design, telling stories of Chinese trends, and exerting unique packaging marketing power. There will also be exciting events. swop will work with well-known partners INNOVA and WGSN to present the packaging trends and macro trends in packaging design. In addition, famous designers and IP franchising companies will share the upcoming Guochao trends. Together we create the next hot products with brand owners.
【"Create Your Future" Package Design Zone】
-
Following the successful collaboration with the prestigious Shanghai Institute of Visual Arts Packaging Communication Design (SIVAPACK) in China in 2019, the design zone once again joins hands with designers of different ages to present today and future packaging designs and inspirations. At the same time, the forum will share outstanding cases and brand insights. With the new packaging design trend, the consumers will instantly like your products.
【Smart Packaging Zone】
-
Digitization, smart manufacturing, customization are the keywords. This area provides targeted packaging solutions that meet the needs of the new production model of small batches, short delivery periods, large SKUs, and high product complexity. Many well-known exhibitors including Demag, Akei, Chen Hsong, Tederic, Jwell, Liuzhou Jingye, Hualian, Yongchuang, Zhongya, Jardine, Wenzhou Brother, Rentian, HP, Sini, Ounuo and Herma will participate with the latest machinery to showcase plastic container production, paper container production, flexible packaging, primary packaging, secondary packaging, anti-counterfeiting packaging, mold technology, e-commerce, logistics packaging, etc.

Integrate strongest resources and influential global network

Ms. Evian Gu, Division Director of Messe Düsseldorf (Shanghai) Co., Ltd., continued at the press conference: "swop, as a member of the interpack alliance, the world's leading packaging and processing exhibition, integrates international resources. swop 2021 will bring global new trends, new ideas and new technologies in the packaging industry and invite industry insiders to enjoy a unique interpack 2023 warm-up show without going abroad."
【interpack innovationparc】
-
A unique zone specially created for the exhibitors planning to exhibit in interpack to lead the future packaging  Focus on displaying internationally leading innovative packaging equipment, packaging materials and products, and jointly explore the possibilities of various packaging innovations in the future! Among them, Tofflon will exhibit its innovative Mini KUFill production technology at the exhibition to provide maximum flexibility and convenience for laboratory, clinical and small-scale pharmaceutical production; Eiahe, the only HFFS package equipment supplier in China that has passed the Nestlé audit, will exhibit its newly developed horizontal packaging machine at swop, which is the first domestic packaging equipment for the production of "degradable packaging materials".
【SAVE FOOD】
-
Food loss and waste is one of the most pressing problems today. swop has always taken food saving as its mission. This year, the dedicated feature area will showcase the importance of packaging in the process of food production, storage, transportation, processing, consumption, traceability technology and other fields to eliminate waste at the source. "SAVE FOOD" China forum co-sponsored and hosted by the Food and Agriculture Organization of the United Nations Representative Office in China and the Messe Düsseldorf Exhibition Group will also return in swop 2021. The government, scientific research institutions, private sectors and international organizations are invited to participate in this industry event. Furthermore, the "Food Hero" award ceremony will be held onsite to recognize the individuals and businesses that have made extraordinary contributions to saving food in the post-pandemic era in 2021.
Refining industry quality, sharing future trends

This year swop and "PKG Family" jointly create "FMCG Infinity Zone" for the fourth time. "PKG Family" has been established for ten years and has now more than 2,000 FMCG industry members. Mr. Leo Wu, the founder of PKG Family, presented the three major trends in the FMCG market in recent years—environmental protection, "Guochao" and user experience, which coincide with swop highlights. Both parties work together to showcase high-quality products, create a cross-disciplinary exchange platform to share the latest trends, technologies and designs, and bring many new ideas and unique inspirations that help telling good brand stories and enhance brand competitiveness in various fields such as cosmetics, daily care, food, beverage, dairy products, wine, etc.

Online activities meeting different needs, breaking geographical and time constraints

The swop website is about to launch a new online "Tech Vlog" channel that allows industry professionals to share efficient and practical technologies, solutions and equipment, breaking the geographical time limit, and committed to turning the 3-day exhibition into a 365-day uninterrupted communication platform. During the exhibition, live streaming of the exhibition will be held to immediately disseminate information on the exhibition site, so that buyers who are unable to visit the exhibition site can participate online to keep up with the highlights of this year's exhibition. At the same time, online business matching service will be launched to allow flexible services across time zones and places to meet the needs of buyers better.

We look forward to meeting you at the Shanghai New International Expo Center at swop 2021 Shanghai World of Packaging between November 23rd -25th, 2021, an "International Packaging Conference" not to be missed.

For more information, please visit 
www.swop-online.com